The PWG range of PWG-Pura & PWG-Softa brings a new dimension to water treatment. Thanks to this revolutionary range, PWG offers you a solution to treat the entire water in an all-in-one design. Our state of-the-art solutions are the result of more than 40 years experience in the water treatment business. It's simplicity in a multitude of possibilities. Experience perfect water. PWG-PURA is our state of the art whole house filtration system. By applying PWG-PURA you will have filtered water from every tap in your house. This filtration unit is self-cleaning thanks to the
automatic backwash system. We integrated high tech filtration materials such as KDF55C. KDF55C is a patented filtration media that is extremely effective in the removal of chlorine and heavy metals such as lead, mercury and others. KDF55C also inhibits the growth of bacteria. Coconut based activated carbon removes organic matter such as residual chlorine and results in an optimal taste of the water. Optional, PWG-Pura can be optional equipped with a UV disinfection for the extra removal of bacteria and the disinfection of water.
PWG-FILTRA S
Filter for particle filtration
1 to 2 people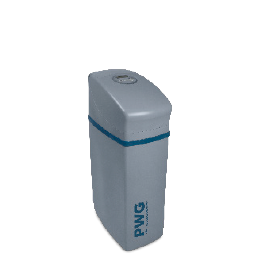 PWG-FILTRA M
Filter for particle filtration
3 to 4 people
PWG-FILTRA L
Filter for particle filtration + color + odor
+4 people
KEY FEATURES
Electronic valve without screws and micro-switches
Complete corrosion free
Maintenance friendly: Spacers and O-ring stack in one part
Water meter controlled unit with automatic reserve calculation
Build-in memory to consult historical data
Info on volume usage history, total volume,
total regenerations, peak flow, …
Potential free contact possible during regeneration.
ADVANTAGES

Plug & Play
Installation-friendly, quick connect, easy maintenance
Types of water
Domestic water, rainwater or well water
Certificated
Top quality synthetic material. Ideal for a combination
with food products & drinking water
OUR PRODUCT RANGE
Discover our products